My Best Friends Cupcakes now offers customized dog birthday cakes.  Available in a customized mini "Happy Birthday Cake" with your dog's name on it in multiple flavor/color options or in a "Birthday Bone" cake design with your doggie's name and the same delicious, all-natural flavors and icings.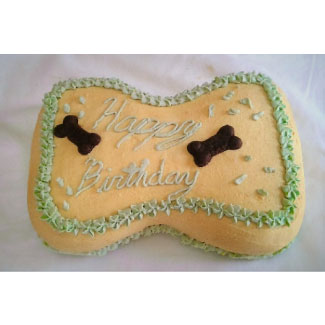 Choose from pineapple bacon, carob cranberry, carrot ginger, apple cinnamon or peanut butter banana.  Decorative color frosting options include: blue, pink, yellow, white and carob.
Every single one of our doggie birthday cakes are made with all the finest quality natural ingredients. We use only local, fresh ingredients with no preservatives, which are all free of wheat, corn, soy and gluten (the most common allergens and fillers in commercial dog products) and baked in-house right here in our Virginia Beach VA Dog Bakery. Everything we make is free of chemicals, salt, artificial flavors, colors, fillers and GMO ingredients. Your dogs will absolutely love what we're cooking up.